Using Drupal can save governments money while improving efficiency, security, and content management
The open source movement was born out of a paper jam. In 1980, MIT staff programmer Richard M. Stallman wanted the source code to his office's new printer in order to write a program that would send an alert anytime the printer was jammed. When a fellow researcher refused to hand over the code, claiming that his non-disclosure agreement prevented him from helping, Stallman resolved to create a complete operating system that would allow users the freedom to make any changes they wished.
Stallman eventually created the GNU (GNU Not Unix) project and launched the Free Software Foundation to support the creation of open source software. Since its birth, the open source movement has continued to gain momentum in corporate computing. More recently, it has entered the government sphere. A 2010 report by the Center for Strategic and International Studies identifies more than 300 countries, from Argentina to Vietnam, that have passed government open-source policy initiatives.
One of the most widely-used open source platforms is Drupal. Originally developed in 2001 by Dries Buytaert, Drupal started in an Antwerp student dorm as a hobby project. The platform first came to wide public attention in 2003, when it was used to build a network for the Democratic primary campaign of Howard Dean. The network, DeanSapce, used Drupal to create a decentralized network of pro-Dean websites.
In 2016, the White House released its first official federal source code policy. The policy detailed a pilot program that required government agencies to release 20 percent of any new code they commission as open source software. This was a big boost for the open source movement, and for Drupal. Today, Drupal powers more than 150 sites for the federal government.
What is driving so many governments and government departments to favour adopting Drupal software? It's the simple fact that the benefits of open source are particularly well aligned with many government objectives. These benefits include cost savings, increased efficiency, greater security, enhanced transparency, increased robustness and reliability, faster and easier public data transfers, and greater innovation.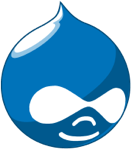 The Drupal logo. When Dries was looking for a domain name for his site, he chose dorp.org. "Dorp" is the Dutch word for "village". However, when checking to see if dorp.org was available, Dries mistyped dorp as "drop." The mistake stuck. In 2001, when Dries decided to release the software behind drop.org, he called the software Drupal, which derives from the English pronunciation of the Dutch word "druppel," which means "drop." (Source: Drupal)
Saving costs and improving efficiency
A major draw for government agencies is the lower cost of open source software compared to proprietary software. By using open source software, governments are spared paying the licensing costs for proprietary software. This can run into the hundreds of thousands of taxpayer dollars. Not only is the core platform free to use, but thousands of contributed modules, themes, and entire pre-configured platforms ('distributions') are also available free from licensing costs.
Using open source software also avoids vendor lock-in – anyone can bid on projects, updates, and maintenance. For example, Drupal uses common technologies like PHP and jQuery, which means that agencies have a huge selection of vendors to choose from for hosting, maintenance, and development. Rather than being locked into multi-year contracts with a single proprietary vendor, agencies are free to change vendors or develop their own in-house team of Drupal specialists.
Drupal also allows a wide variety of efficiency savings. Because the software is fully customizable, it can be made to align with existing administrative processes and editing tools. This not only saves money and time during migration, but it also reduces barriers to adoption and increases long-term operational efficiencies. All of this offers substantial savings in both the long and short term. These savings also have a knock-on effect, as they allow more resources to be devoted to public-facing areas like feature and content development, rather than maintenance and overheads. The public sees improved content and functionality at a lower cost to taxpayers.
The cost and efficiency savings are one reason why, in 2012, the state of Georgia decided to use Drupal to develop a new content management system. The state recognized that their expensive proprietary CMS would not provide a flexible long-term solution to enterprise content management. Today, the Georgia.gov platform includes more than 80 websites with around 430 active content managers.
Georgia's use of Drupal resulted in $14 million cost of ownership savings for the state. Some of this came from migrating the state's websites from a proprietary system to a Drupal platform hosted in the cloud. The move also eliminated licensing costs and reduced costs associated with support staff by nearly 75 percent. The use of Drupal also created efficiency savings by reducing the time needed to add and edit content. According to the Georgia Technical Authority, the average update times dropped from 10-15 minutes per edit on the previous platform to just 1 minute per edit on Drupal. The reduction allowed the content team to turn their attention to rolling out new sites and features to better serve the state's citizens.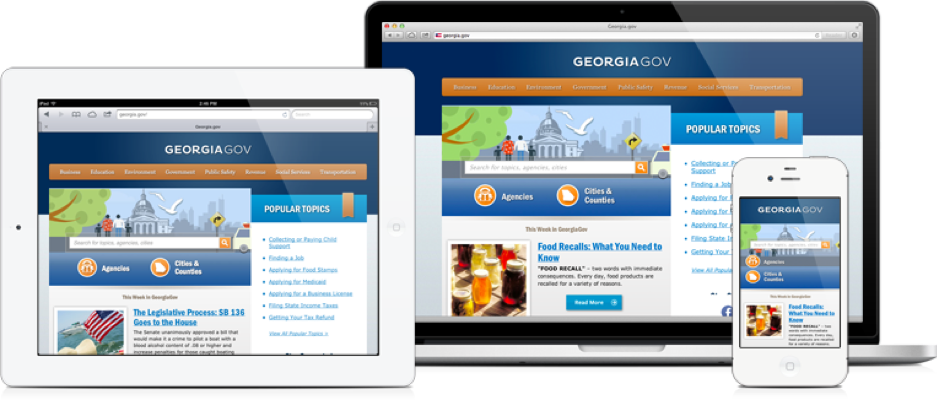 Drupal was chosen for the revamp of the Georgia state website because of open source's ability to cut costs and increase efficiency. (Source: State of George)
Improving adaptability
Another major feature of Drupal and open source, in general, is its ready adaptability. According to Jacob Redding, executive director of the Drupal Association, a lot of Drupal's government growth is driven by the same reasons it is gaining private-sector popularity. "Due to its flexible, modular architecture, Drupal can be used for small to incredibly large builds. You can still meet niche needs while meeting the robust needs of the enterprise".
The Department of Energy, for instance, moved to Drupal when it realized that the agency website, Energy.gov needed immediate attention. Traffic to the site was low, bounce rates were high and users complained that the site was difficult to navigate. The Energy Department was using outdated digital technologies and was looking for a solution that could adapt and evolve to meet both current and future requirements. They chose Drupal for its flexibility and adaptability.
The Department of Energy also wanted to make sure that any new sites would not require developer intervention for future updates. The agency is now able to create new sites directly from the Drupal CMS. Content can also be shared across sub-agencies, which saves money and time. The redesign incorporated "one-off" feature development such as DSIRE Rebate Import, from an Energy.gov partner, and Podcast development to support publishing to iTunes. The new site is more responsive and provides a consistent experience across an array of devices, including tablets and phones.

Switching to Drupal also gained the agency considerable cost savings of around $10 million annually. This was achieved through the consolidation of duplicated platforms and the elimination of expensive internal hosting solutions.
Security improvements
As recently as ten years ago, security concerns were a major obstacle to the adoption of open source software in government. It was widely believed that open source software was vulnerable to bugs, security breaches, and data protection lawsuits. To many, it seemed counterintuitive that open-source software would be safer than proprietary software, yet this is precisely the case.
One reason for this is that without access to the source code, detecting, identifying, and defeating attacks is left to a relatively small group of people. The many thousands of Drupal developers around the globe ensure a constant process of testing, review, and alerts. Potential security threats are found and eliminated quickly. Open source also allows security teams to move faster because they do not need to wait for the proprietary vendor's security team to act. All of this makes the final product more secure.
When Drupal was chosen in 2009 to build the White House website, improved security was seen as a major advantage over proprietary systems. At the time, the White House was using outdated proprietary technology purchased during President George W. Bush's administration. The tech-savvy Obama team wanted an updated website that would allow improved engagement with the public. Obama's team had used Drupal during the campaign, so it was a natural choice.
Part of Drupal's strength is its code to support social media features, which also reflected Obama's desire to have a more transparent and open government. After its installation, Whitehouse.gov acted as an endorsement, demonstrating to federal agencies that Drupal is a viable option.
The House of Representatives also uses a Drupal-based platform that supports hundreds of sites for committees, conferences, and individual members of the House. Drupal has also been used to build sites for FEMA, the Department of Homeland Security,  NASA, and the departments of Education, Energy, Commerce, Health, Defense, Justice, Transportation, Homeland Security, and Agriculture. In all, it is thought that around 25 percent of federal sites are now running on Drupal.
In addition, to counter attacks faster, open source software also allows bugs to be found and fixed much faster because developers do not have to first report the bug back to a proprietary vendor. In fact, shortly after the WhiteHouse.gov switch, a potentially serious XSS hole was found in the Drupal Context module used to install the core on the White House site. This was quickly plugged by White House developers working in-house.
Drupal's popularity is also a boon to security. This is because the way that security bugs are found is by people looking at the code. The more people who are looking, the more bugs that are found.
Another aspect of open source security is that, when security professionals have access to the source code, they can explore new solutions to old problems in a very creative way. This also plays a role in collaboration.
Innovation through collaboration
The open source nature of Drupal helps remove barriers to innovation by improving the opportunities for collaboration. This makes it ideal for government use. The more government agencies that share code through Drupal, the more every agency using Drupal benefits. Drupal's community of software developers has around 630,000 active members. Themes and modules contributed by developers and project owners become available for others to use in their own projects.
This contributed code creates a kind of feedback cycle. The more organizations that participate in this, the more innovation takes place. For example, a government agency might contribute a module to address a need, such as having tight control over publishing workflows. Instead of reinventing the wheel, other agencies can then use the same module, saving resources which can then be spent on developing enhanced features. More agencies then have access to these enhanced features, saving further resources, and so on. Over time, more and more features become available this way, freeing resources for real innovation. For government agencies, this kind of community innovation also becomes a way of engaging citizens in making government work better.
Improved innovation benefitted the London Mayor's office when they developed a Drupal platform for the new london.gov.uk site. The development team used the Agile project management methodology, which allowed them to continuously incorporate feedback. One of the biggest issues, when it came to the site design, was the content. There was too much content, and it was poorly organized, making it difficult for public users to find what they needed. To save time and money, the developer used pre-existing modules for features such as the site's data migration, webcasts, taxonomy, planning decisions, jobs feed, and search sections. The savings in time and money allowed the team to trim the site's content by 75 percent and focus on delivering compelling, multimedia content, written in plain English.
In the U.S., the White House got the ball rolling on this type of collaboration by contributing the Akamai module for Drupal, which controls headers for caching. Associated organizations such as OpenPublic are also helping make government more innovative through Drupal. OpenPublic is a collection of modules and theme configurations that pick Drupal up and make it more tailored for government use. By providing modules designed especially for government use, OpenPublic saves agencies from having to pick and choose from thousands of options. In the future, as more and more government agencies adopt Drupal, the barriers to entry will be lowered even further.